The Easiest Way To Water Your Big Garden
You can put down the water hose forever! Maintaining a lush garden or a green lawn doesn't have to take away your free time! Leave it to SpinSplash to do all the watering for you!
The unique three-way nozzles are not only entirely adjustable but cover up to 3600+ square feet evenly to water all four corners of your garden in a quick breeze!
You don't have to be conservative with the sprinkling, SpinSplash spreads every drop around to make sure nothing goes to waste! Keep all your plants healthy at no expense of your time or money!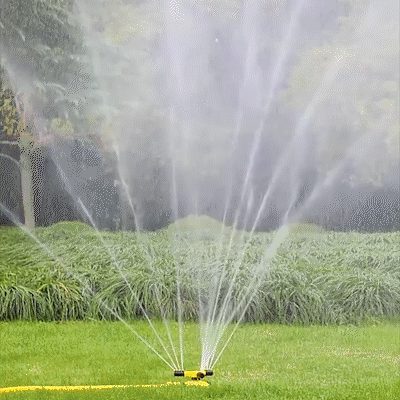 Features:
Better than the rain- SpinSplash's coverage rivals even the clouds, with only one you can easily cover the front lawn or back garden!
Instant irrigation- Don't have time to water the lawn yourself, put SpinSplash in the middle to do the watering in an instant!
Evenly watered- An unevenly watered garden is not a pretty sight, SpinSplash's 360-degree rotating action leaves no plant dry!
SpinSplash is the ultimate choice- Finally, a sprinkler that can cover more ground with less water, keeping your big lawn green is easy with SpinSplash!
Please note : If your buying more than one using our "grab a deal" section, the discount will be added during the checkout process 😀
 Material: PVC Recycled Plastic
Two modes: rotating nozzle, adjustable angle
Large water volume direct injection mode
Wide-range oblique shooting mode
SIZE:
BUT JUST IN CASE, YOU'RE STILL NOT CONVINCED…
We offer a full 90 day, 100% satisfaction guarantee. Order yours, try it out, make sure it works, and decide if you like it over the next 3 months. If you want to send it back, we'll refund every penny of your purchase price, no questions asked.
YOU MAY ALSO LIKE OUR
SHOP HERE